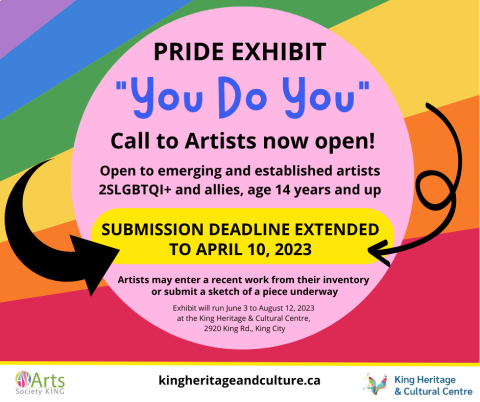 In partnership with Arts Society King (ASK), the King Heritage & Cultural Centre (KHCC) is pleased to announce an art exhibit in recognition of PRIDE Season, to be held June 3 to August 12, 2023. 
PRIDE Season, parades and related events celebrate human rights: to allow every human to be seen, heard and proud of their authentic selves. The King Heritage & Cultural Centre is inclusive of, and an ally for, all abilities, experiences and orientations.
This exhibition is open to emerging and established 2SLGBTQI+ artists and allies (age 14 years and up).
Artists are encouraged to interpret this year's theme of "You Do You" through both their art and accompanying statement/story/poem. Artwork does not have to be created specifically for this show but must be a recent work (created since 2020) and relate to the theme of the art show. If artwork is still underway, artists may apply with a sketch of their planned piece or a detail image of part of the artwork. 
Theme for 2023: You Do You
Be true to yourself
Embrace your identity
Stand up for your beliefs
Celebrate you!
Call to Artists opens on January 16, 2023. Completed applications must be submitted by 11:59 pm on April 10, 2023 for artwork to be considered for this show. Artists are encouraged to apply early as available spots may fill before the deadline.
To be considered complete, application must include the following:
Completed digital form
Artist statement/story/poem of up to 150 words
A high resolution, centre-view image of your artwork
$25 application fee paid online or in person
APPLY ONLINE HERE
LOCATION:
You Do You will be on display at the King Heritage & Cultural Centre (KHCC), 2920 King Road, King City from Saturday June 3 to Saturday, August 12, 2023.
GUIDELINES:
All participating artists should identify as 2SLGBTQI+ or allies.
Artwork submitted must relate to the 2023 theme (You Do You) as interpreted by each artist.
All forms of art will be accepted (including work created digitally).
Original artwork only (e.g. no photomechanical reproductions of paintings).
Only one entry (one piece of artwork) may be entered into the show by each artist.
Each artist must submit an artist statement/story/poem of no more than 150 words, that offers insight to their artwork and enhances the artist's interpretation of the show's theme.
Maximum size is 36 square feet for 2D work, preferably no wider than 60"(152 cm) across. Size restrictions may apply for 3D work. Please contact the KHCC if your work is larger than the guidelines.
Framed work must be clean and ready for gallery display (proper d-rings and wire for wall mounting).
Unframed paintings must be clean and have finished/painted sides. Artwork will be not accepted unless it is gallery ready.
ADDITIONAL INFORMATION:
Applications will be reviewed by our in-house panel made up of KHCC staff and Exhibitions Committee.
Entries will be considered in the order that registration is received. Please note that hanging space may all be allocated by the deadline of April 10, 2023 so artists are encouraged to apply early.
The KHCC may edit stories/statements that exceed 150 words for the purpose of display.
The KHCC will produce a label to include name of artist, title, medium, size of artwork, sale price (if applicable) and artist's story/statement.
Sale of artwork is at discretion of each artist. A commission of 20% to the KHCC will apply on all sales.
If your work will require a display case or specific hanging arrangements, please contact KHCC staff in advance at kingmuseum@king.ca
Although it can be sold, artwork must remain on display for the entire duration of the exhibit.
KHCC and ASK may share photos of your artwork and story on social media for promotional purposes, as part of a long-term digital exhibit and/or as part of a printed art catalogue.
The KHCC reserves the right to decline a submission deemed unsuitable for the Show.
Artwork must be delivered to the King Heritage & Cultural Centre in late May on a specified day and time, as arranged with KHCC staff.
For more information please contact the King Heritage & Cultural Centre (KHCC):
905-833-2331
Instagram - @kingmuseum
Facebook - @kingheritageandculture
The King Heritage & Cultural Centre is an accessible site.