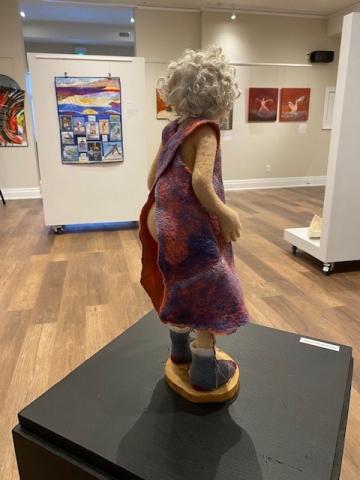 The King Heritage & Cultural Centre is pleased to present the 2nd annual art exhibit in recognition of International Women's Day. Stereotype Smash will open on Saturday, January 14 and close on Saturday, March 18, 2023. 
Displaying the art of these 39 established and emerging artists, the exhibit contains entries from King Township, the GTA and as far away as the Maritimes:
Atswei
Carole Ahmed
Meral Altinbilek
Qori Aparicio
Janet Bourdeau
Ciara Campbell
Elise Campbell
Giovannina Colalillo
Shawnté Cornwall
Roseanne Cremer
Andrea De Bartolo
Kristen Elizabeth Donoghue-Stanford
Talya Drescher
Jamie-Lee Girodat
Katie Gorrie
Kate Greenway
Nancy Hallas
Karen Klucowicz
Geneviève LeDuc
LeenFineArt
Mary Mckeown-Olivo
Iryna Molodecky
Kathy Morgan
Mary Morganelli
Michelle Muller
Natalie Nadeau
Sophie Naidoo
Alysha Rocca
Kathleen Rodgers
Melissa Sherman
Yafang Shi
Elvan Suzer
Lyudmila Thomas
Sheila Thompson
Mehtaab Wachhair
Brooke Warner
Kelsey Whyte
Lynn Wilson
Nadine Wyczolkowski
This exhibit confronts societal beliefs that have outlasted their usefulness, are dated, inappropriate or are just plain untrue. Themes include gender roles, equality, ideal bodies, aging and more. Artists were challenged to take a stereotype and address it in both their art and artist statement. The result is a dynamic display of over three dozen diverse pieces of art that take a stand against stereotypes.
Artist forums that are open to the public will be held on February 4th and March 4th from 1-3 pm. The forums give artists the opportunity to speak about their work and answer visitor questions. An evening event is also being planned for International Women's Day on March 8 with further details coming soon.
Stereotype Smash runs from January 14 to March 18, 2022 (Tuesdaya to Saturday, 10 am to 4 pm) at the KHCC, 2920 King Rd., King City, Ontario, L7B 1L6. Admission by donation.