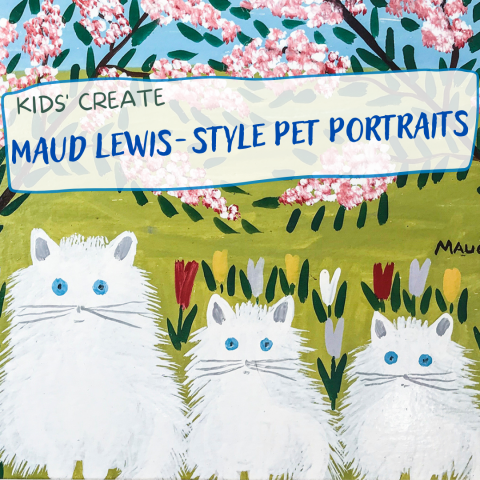 Join the fun at the Kids' Create, Children's Art Club, now with a focus on exploring different artistic techniques and styles. Each week there will be unique activities and themes, all with the intention of cultivating children's creative side and encouraging their interest in art. The fun takes place every Saturday from 10am - 12pm! It is $5 plus tax per child. 
Do you have a pet or another favourite animal? Drop by this Saturday to paint them in Canadian artist Maud Lewis' signature cheerful folk style! Learn how she made dozens (if not hundreds!) of cat paintings over her career and try her techniques for yourself. If you have a pet you'd like to paint, please bring a picture of them with you. We'd love to see!
We will be using acrylic paint in this activity, please dress your children accordingly!
Suggested age group is between 6 and 10 years old. 
Please note that adults must stay on site with their child(ren) but may view the museum galleries (free admission with a child attending the arts club).