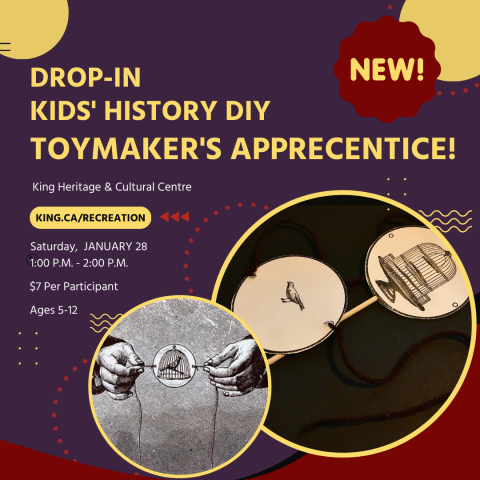 New Drop-in Series: Are you curious to explore history behind-the-scenes at the KHCC? Dive into our artifact collection, learn a new historic skill, and participate in some old-fashioned fun during the Drop-In Kids' History DIY Club every Saturday afternoon at the KHCC! Participants can arrive anytime between 1 pm to 2 pm and enjoy new activities each week. Pay at the door, $7 per child, ages 5-12.
Calling all toymaker apprentices! This week, learn a historic skill by designing and constructing your own heritage optical illusion toy: the Thaumatrope. From its popularity in the 1800s to its evolution to contemporary animation: the rest is all history! Join us this week to learn more.
Visit www.king.ca/recreation.