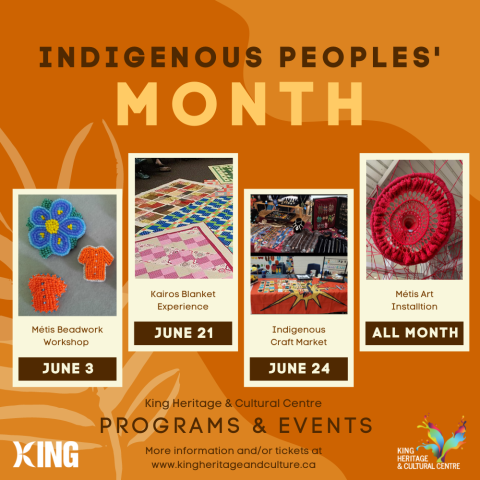 The King Heritage & Cultural Centre celebrates the traditions, cultures, and diversity of the First Nations, Métis, and Inuit Peoples of Canada. Join us through a variety of programs and events this June including:
Métis Beadwork Workshop with Kathy Morgan on June 3
The Kairos Blanket Exercise on June 21
Indigenous Artisans Market on June 24
Hope and Healing - Installation Art by Métis Artist Tracey-Mae Chambers (all month long)
BEADING WORKSHOP - June 3:
Join us for this full-day Indigenous beadwork workshop, led by artist Kathy Morgan, to design a decorative pin of your choice (orange shirt or flower).
Kathy is a proud member of the Métis Nation of Ontario, renowned for their distinguished beadwork flowers. She was initially taught beadwork by her Métis grandmother; and, continues to share her knowledge as a Métis Cultural Presenter and beadwork instructor. 
$125 per person. Catered lunch is included.
9AM-4PM on June 3rd at the King Heritage & Cultural Centre.
Pre-Register at:
https://townshipofking.perfectmind.com/23793/Clients/BookMe4LandingPage…
KAIROS Blanket Exercise - June 21
Participate in Indigenous Peoples' Month by learning about the history of this Land from a First Peoples' perspective. The KAIROS Blanket Exercise is an experiential workshop that explores Indigenous legacies, cultures, and traditions; but, also the injustice stemming from colonization. Participants are invited to assume the perspectives of First Nations, Inuit, and Métis peoples as they move over territories represented by blankets laid out on the floor. This exercise is followed by a talking circle 
to help participants understand and build relationships with each other. It is an impactful experience that will not soon be forgotten. 
Note: There may be content that will be difficult for some. Participants under the age of 18 must be accompanied by an adult.
Ages 16+. Participation is free. Pre-register at (905) 833-2331 OR https://townshipofking.perfectmind.com/23793/Clients/BookMe4LandingPage…
INDIGENOUS ARTISAN MARKET:
Attend the Indigenous Artisans Market, presented by the Indigenous Action Committee, on Saturday, June 24th at the King Heritage & Cultural Centre from 12PM-3PM. 
There will be a wide variety of Indigenous Artisans, live music, and free refreshments. 
All are welcome to attend!
HOPE AND HEALING CANADA - ART INSTALLATION BY TRACEY-MAE CHAMBERS
Metis artist Tracey-Mae Chambers grew up as a stranger to her own story; adopted and re-named, grafted into a new family tree. The discovery in her adulthood of her Metis heritage was a revelation that set her on a path of discovery. Tracey-Mae works in the powerful tradition of the vessel as metaphor for individuals: "we fill and re-fill ourselves throughout life to create our own story".
Since July 2021 she has created over 100 installations at residential school historical sites, museums, art galleries and other public spaces. Many of these spaces serve to present a colonial viewpoint and primarily speak about the settlers who arrived and lived here, but not the Indigenous people that were displaced along the way. Her installations are constructed with red wool, silk and cotton yarn.
Tracey-Mae hopes to bridge the gap between settlers and Indigenous, Métis, and Inuit people by creating art that is approachable and non-confrontational and starting a conversation about decolonization and reconciliation.
This installation is on the exterior front of the schoolhouse building at the King Heritage & Cultural Centre is available to view daily until September 30, 2023.