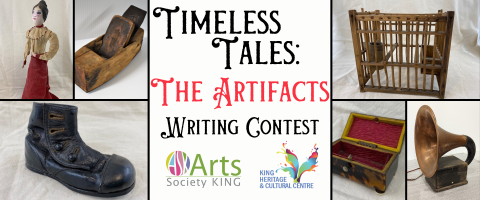 King Heritage & Cultural Centre and Arts Society King Present
Timeless Tales: The Artifacts Writing Contest
On Now Until May 31, 2021
Behind every old artifact there is a wonderful mystery. Who used it? What was it used for? And why? Six intriguing images from King's past are waiting for York Region writers of all ages to tell it like it wasn't. Pick one, and let your imagination go wild. The best of the best in each of 4 age categories, from children to adults, will be awarded a $50 Indigo gift card, plus a signed copy of "Eaton Hall – Pride of King Towship" by Kelly Mathews, and publication in local print, social media and in the "Timeless Tales – The Artifacts" Anthology. So pull out your best verbs. Sprinkle us with a few delicious adjectives. Move us. Touch us. Make us laugh or cry or wonder what on earth you were thinking. Submission deadline: May 31, 2022. 
Contest Rules
Each story must be inspired by one of the artifacts above from the King Heritage & Cultural Centre collection.
One entry per person.
Open to all residents of any age within York Region who are not members of the ASK board, or directly involved with the contest committee or the judging.
Stories may be submitted through the form below OR sent in to info@artssocietyking.ca starting NOW up to May 31st, 2022
Entrants agree to allow posting of their entries on the ASK website and on any ASK and KHCC social media platforms and in local newspapers.
Entry to the contest assumes the author gives permission for their piece to be published in the Timeless Tales II – The Artifacts Anthology, unless otherwise requested in writing prior to print.
Prize Categories
Grades 1-4: $50 Indigo Gift Card + Heritage Book
Grades 5-8: $50 Indigo Gift Card + Heritage Book
Grades 9-12: $50 Indigo Gift Card + Heritage Book
Adults aged 18 to 101!: $50 Indigo Gift Card + Heritage Book
Formatting
All entries must be submitted in the following format:
Size 12 font
Times New Roman font
Double Spaced
Maximum 1500 words
Grades 1-4 may include pictures to illustrate their story
Stories must be sent as a PDF or Word Document